MapSite has a new feature, in which the service tracks the user's position automatically. The function is useful in trekking and in helping to find boundary markers.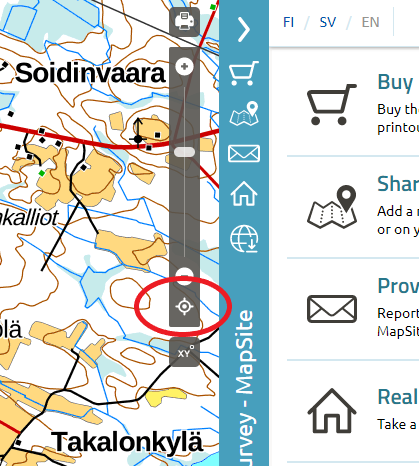 Click or tap the "Show your position" icon to start tracking your position. A new click will stop the tracking.
This is how it works:
When you switch on the tool by clicking or tapping the crosshairs icon, your position will be shown with a blue dot. If the map's scale is small, you will automatically zoom in on your position.
The blue dot is surrounded by a translucent cirkle that describes the precision of your position.
The map will move with you so that your position will be centered automatically if the dot showing your position approaches the edge of the map.
If you zoom the map or move it by hand after selecting the tool, the centering switches off. The selection will remain and your position will still be shown. You can switch automatic centering on again by clicking or tapping the crosshairs icon to switch off Show your position and then switch it on again.