Elevation zones is a raster dataset that visualises elevation of the terrain. The product covers the whole of Finland. There are four product versions available in which the pixel sizes are 32, 64, 128 and 512 metres. The dataset does not contain elevation values; it is a colour image that visualises the height of the terrain above sea level as zones. The sea is shown in light blue in the elevation zone. The product Elevation zones is available as a version that covers the whole country and as versions that cover a certain area.
The product belongs to the open data of the National Land Survey of Finland.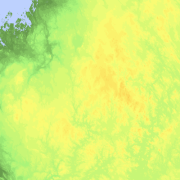 Purpose:
The dataset Elevation zones can be used as a background map material to visualise the topography of the terrain (height above sea level).
Geographic location
Entire Finland
Reference system
ETRS89 / TM35FIN(E,N) (EPSG:3067)
N2000 height (EPSG:3900)
Pixel size
32 m
64 m
128 m
512 m
Spatial representation
Raster
Portrayal catalogue citation
The portrayal catalogue of Elevation zones is available at (in Finnish):
Data content
Versions of the dataset Elevation zones:
Elevation zone pixel size 32 m
Elevation zone pixel size 64 m
Elevation zone pixel size 128 m
Elevation zone pixel size 512 m
In pixel sizes from 32 metres to 128 metres the elevation of the terrain is divided into 30 elevation classes and in pixel size 512 metres into 16 classes.
Maintenance

Maintenance

The rasters have been updated as a whole in October 2015.

The elevation zone product is based on the elevation model 10 m data, which is generated on the basis of the elevation model 2 m data. If there are any changes in the source data, the elevation zone product will be updated once a month.
Quality information

Lineage

Elevation zones is produced from Elevation model 10 m.
Distribution and further information

Responsible party

National Land Survey of Finland

Conditions applying to access and use

Distribution format

GeoTIFF

Further information

The 512 m pixel version can be downloaded as an image covering the whole of Finland. Other versions can be downloaded by map sheet.
Pricing

Processing fees for Elevation zone raster dataset

Product
Price € (excl. VAT)
Price € (incl. VAT)

77103010000

Elevation zone raster, first map sheet

92,02
114,10

77103010001

Elevation zone raster, first map sheet / pixel size 512 m

57,74
71,60

77103010002

Elevation zone raster, following map sheets

15,73
19,51

77103010003

Elevation zone raster, entire Finland (pixel size 32 m)

315,00
390,60

77103010004

Elevation zone raster, entire Finland (pixel size 64 m)

167,98
208,30

77103010005

Elevation zone raster, entire Finland (pixel size 124–512 m)

92,02
114,10