The Mobile Mapping group has built two actively used systems for data acquisition, ROAMER and Sensei. Both systems can be and have been installed on various vehicles, for example on a car, boat, ATV and a snowmobile sledge.
Road Environment Mapper ROAMER
ROAMER has been used since 2007. The aim of the design was to build a high-precision and high-speed laser scanning system with adjustable profile scanning angle. The main components of the system are:
Faro Photon 120 terrestrial laser scanner
NovAtel SPAN navigation system
In-house developed synchronization unit
In-house designed rigid platform with tilting scanner mount, built by Aalto University Dept. of Surveying
ROAMER specifications:
Max point acquisition speed 976 000 points per second
Field of view 320 degrees
Max profile measurement rate 61 Hz
Navigation logging rate 100 Hz
 Measurement range 120 meters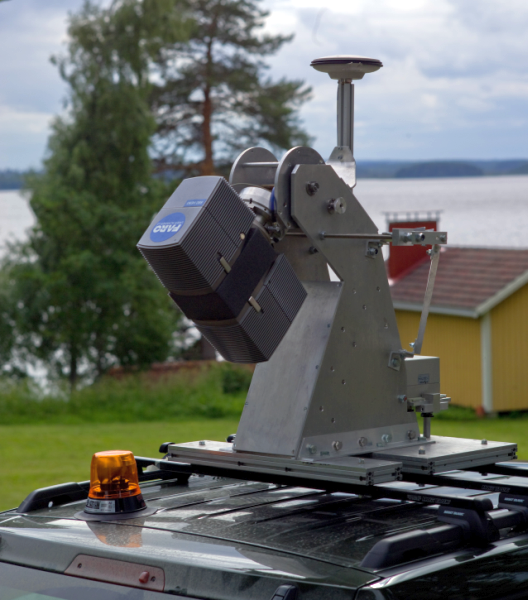 ROAMER mounted on top of a car.
Sensei
Sensei has been operational since 2009. It was designed to be a low-cost and light-weight multi-sensor system, that can be operated also using low-cost UAVs. The main components of the system are:
Ibeo Lux or Sick LMS151 industrial laser scanner
NovAtel SPAN-CPT navigation system
AVT Pike F-421C CCD-camera
Specim V10H spectrometer
Flir Photon 320 thermal camera
Sensei specifications:
Max point acquisition speed 38 000 (Ibeo) or 27 000 (Sick) points per second
Navigation logging rate 100 Hz
Measurement range 250 (Ibeo) or 50 (Sick) meters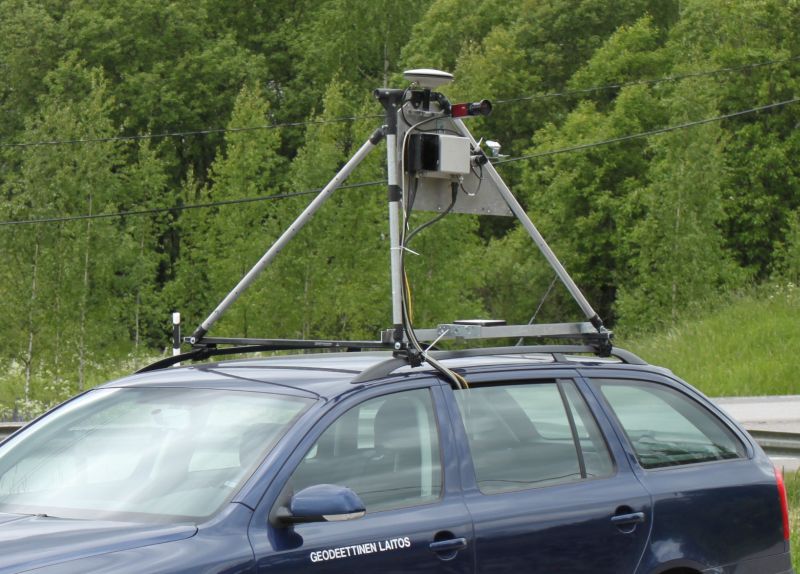 Sensei mounted on top of a car.
Sensei mounted under an UAV.
3D Traffic
The ROAMER system HW was developed mainly as a part of Finnish Academy project 'Transportation data acquisition by means of ITC-derived 3D modelling'. Project was carried out in co-operation with the Department of Photogrammetry and Remote sensing and the Department of Transportation Engineering of Helsinki University of Technology (currently Aalto university) and the FGI Department of Navigation and Positioning. The goal of the consortium was to improve the transportation planning, traffic simulation and traffic state monitoring by providing accurate 3/4D-information of the traffic surroundings. By means of the technology and methodology provided by laser scanning, photogrammetry and mobile mapping systems, the goal was to develop automatic processing chains from the raw image data and point clouds into the more refined information that is needed in traffic simulation, traffic planning and traffic state monitoring.
The concept of utilizing laser scanning in 3D Traffic:
Airborne laser scanning is used to create a rough 3D environment including traffic obstacles.
Mobile laser scanning is used to acquire detailed data for 3D environment along the roads, producing high-quality DEM for the road and high-quality traffic obstacles.
Multitemporal mapping with MMS produces 4D information along the roads for change analysis.
Fixed laser profilers observe traffic flows locally.