Satellite imaging covers large areas of terrain at regular intervals, which is why satellites orbiting the Earth are an excellent way to gather up-to-date information on the state of our environment and any changes in it on a global scale.
When necessary, satellites can be used take several images of a focused area quickly, which is useful especially for monitoring changes in the environment. Satellite imaging also makes it possible to create maps of areas that are otherwise hard or even impossible to access.
Remote sensing satellites
The first remote sensing satellite system in operation was the United States' Landsat program. The Landsat satellites have produced a continuous record of images since 1972.
Europe also has its own Earth observation programme called Copernicus, which has been in operation since 2015. Copernicus is publicly financed by the Member States of the European Union, and the satellite images are freely available to everyone and can be used for commercial purposes as well.
In addition to these two, there are also commercial remote sensing satellites. They usually have higher resolution images, but the areas they cover are not as large.
The Finnish Geospatial Research Institute develops services based on time series data
Operating under the National Land Survey of Finland (NLS), FGI has been developing services based on satellite images for several decades. The FGI has participated in developing mapping methods for agriculture, surveying forest resources and producing snow maps.
FGI's newest research efforts are centred round automatically detecting changes in satellite images and utilising time series data. In a research project funded by the Academy of Finland, FGI developed the satellite image processing toolkit EODIE (Earth Observation Data Information Extractor).
The EODIE automatically processes large sets of satellite images, making them more easily usable as initial data sets for different applications. Initial data sets produced with EODIE have already been used in mapping applications aimed at the agriculture and forestry industries.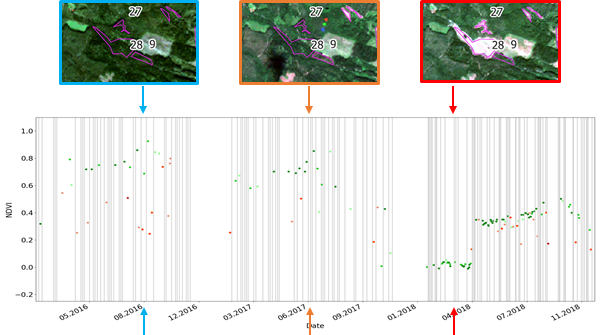 Read more
See our poster for more information on EODIE. Download the Zappar app from your app store to see the interactive content of the poster. Made in cooperation with FlyAR.
Peltonen-Sainio, P., Jauhiainen, L., Laurila, H., Sorvali, J., Honkavaara, E., Wittke, S., Karjalainen, M., Puttonen, E., 2019. Land use optimization tool for sustainable intensification of high-latitude agricultural systems, Land Use Policy, Volume 88, 104104.
Peltonen-Sainio, P., Jauhiainen, L., Honkavaara, E., Wittke, S., Karjalainen, M., Puttonen, E., 2019. Pre-crop Values From Satellite Images for Various Previous and Subsequent Crop Combinations, Frontiers in Plant Science, 10:462.
Karila, K., Yu, X., Vastaranta, M., Karjalainen, M., Puttonen, E., Hyyppä, J., 2019. TanDEM-X digital surface models in boreal forest above-ground biomass change detection, ISPRS Journal of Photogrammetry and Remote Sensing, 148: 174-183.
Wittke, S., Yu, X., Karjalainen, M., Hyyppä, J., Puttonen, E., 2018. Comparison of two-dimensional multitemporal Sentinel-2 data with three-dimensional remote sensing data sources for forest inventory parameter estimation over a boreal forest, International Journal of Applied Earth Observation and Geoinformation, 76(2019): 167-178.