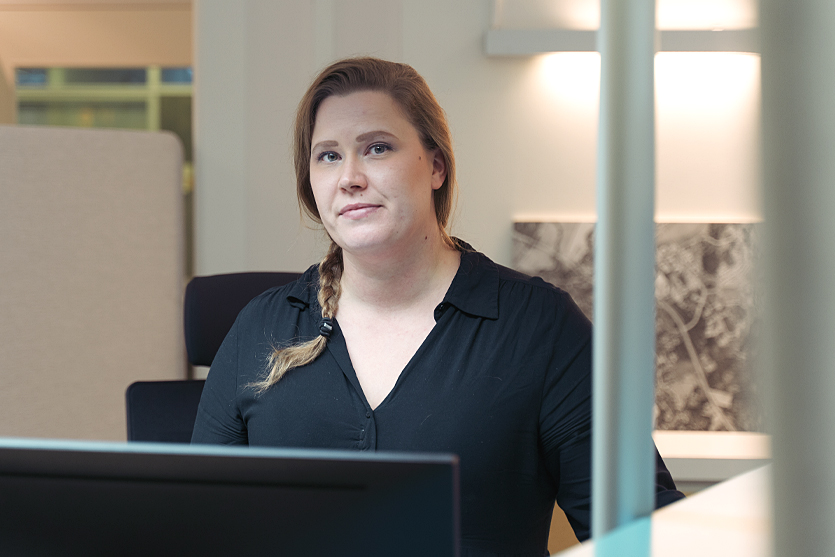 While service advisor Janina Liikanen's workplace is located in Pasila, the model of activity-based work in multiple locations allows her to work in other places, such as her home.
'Absolutely the best part about working for the National Land Survey of Finland is the trust shown towards employees. The NLS trusts our expertise in our roles, which is also indicated by the framework of activity-based work in multiple locations, defined already before the coronavirus pandemic, and shared leadership,' Janina says.
Janina started working at the NLS three years ago. She had spent more than 13 years in her previous job, and she was looking for a change and new challenges. As the NLS seemed like an attractive employer, Janina applied for the position of a service advisor, and was selected. 
'Service advisors come from highly different backgrounds across Finland, and not everyone has knowledge of the content required before coming to work here, but you'll learn it, as long as you want to develop yourself,' Janina says.
Janina says that her work is very varied. No working week is the same as the last one. Her work also changes according to her own skills and strengths. 
Janina provides customer service at the service desk, by telephone and via email. In her job, she provides customers with guidance and makes inquiries for customers. 
'I would also describe myself as an interpreter. As some things and concepts may be difficult to understand for customers, my job is to clarify and explain what they mean,' Janina says.
Janina has a vocational qualification in customer service and marketing. She is also studying land surveying at Lapland University of Applied Sciences. 
'I think it's great that the NLS encourages its employees to learn and develop themselves continuously. Here, developing your own expertise is a valuable asset,' says Janina.