The 3D vectors for buildings are three-dimensional instances of the Building target category in the National Topographic Database (KMTK). The 3D vectors are produced with a high degree of automation from laser scanning data 5 p based on 2D vectors for buildings in KMTK. For the time being, data is available only from a few example areas, but the coverage will be extended to the whole of Finland as the laser scanning programme proceeds.
The product belongs to the open data of the National Land Survey of Finland.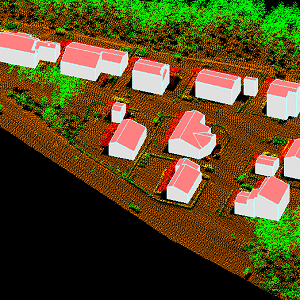 Purpose:
The 3D vectors for buildings can be used as the source data for a visual cityscape and utilised in land use planning and analyses related to determining the solar energy potential of buildings, for example.
Geographic location
Entire Finland
Reference system
ETRS89 / TM35FIN(E,N) (EPSG:3067)
EPSG:3900
Spatial representation
Vector
Spatial representation info
Full surface graph
Maintenance

Maintenance

The product is updated annually according to the laser scanning of the previous season. Map of the current status: https://tilannekartta.maanmittauslaitos.fi/3drakennukset

The product is available from the NLS MapSite's Download geospatial data -section according to the above-described updating rhythm.
Quality information

Lineage

At this stage, quality requirements have not been defined for 3D vectors for buildings produced by the National Land Survey of Finland. The generation of the data is highly automated.

Factors that affect the quality of the data include:

Vectoring logic

- 3D vectors are produced based on a data-driven process

2D vectors

- The generation of the data is based on 2D vectors for buildings, which means that the location accuracy of the data on which these two data types are based is identical.

Point cloud data

- The quality of point cloud data affects the quality of 3D vectors.

The data is geometrically complete and, taking into account the above-mentioned factors, tries to model reality as accurately as possible.
Distribution and further information

Responsible party

National Land Survey of Finland

Conditions applying to access and use

Mention the name of the Licensor (the National Land Survey of Finland), the name of the dataset(s) and the time when the National Land Survey has delivered the dataset(s) (e.g.: contains data from the National Land Survey of Finland Topographic Database 06/2014).

Distribution format

CityGML
Pricing