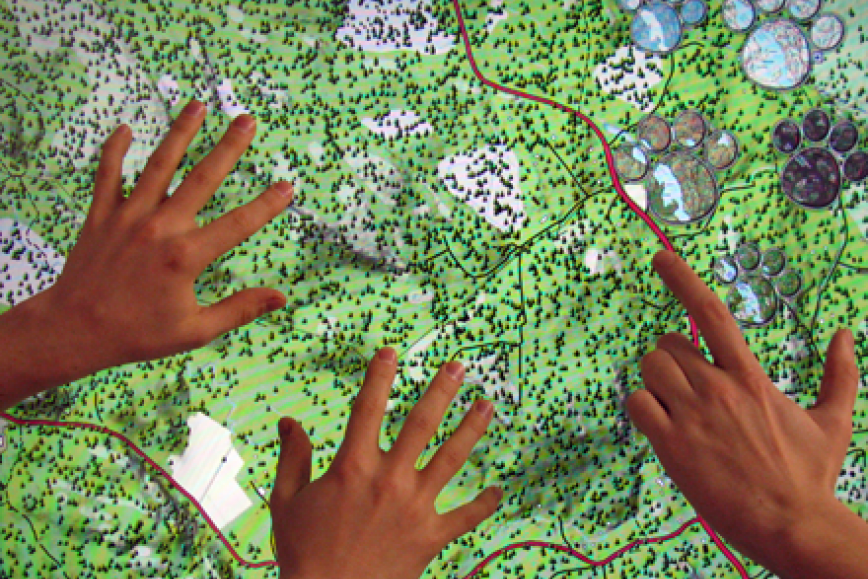 In the future the geospatial applications can take advantage of the ubiquitous technology embedded in the environment. The applications can support the intuitive interaction of the users with the environment by adapting, for example, into the tasks and use situations of the users. The goal of the research is to study the utilisation of the ubiquitous technology in geospatial applications, and to develop innovative user interfaces for different kinds of user groups.
The research on the usability of geospatial information and interactive map application focuses especially on the problems and requirements of map users. Research on spatial cognition is utilised in modelling the different kinds of map use environments, including mobile use. This multi-disciplinary research group contributes from several disciplines: geoinformatics, computer science, graphical communication, cognitive science, and usability.
More about this topic:
News
31-Dec-2012: The research group on Ubiquitous Spatial Interaction is finished.
23-Nov-2012 UbiMap presentation and demos in the Motive-programme's final seminar at the Academy of Finland.
6-Nov-2012 to 7-Nov-2012: Go to Woods!- project exhibited in GIS-EXPO in Helsinki Exhibition & Convention Centre.
13-July-2012 to 12-Aug-2012: Go to Woods!- webmap at Housing Fair 2012 Tampere, Tekes Smart House exhibition.
12-June-2012 to 19-June-2012: Tassu- multitouchmap exhibited at Laituri, which is one of the WDC Helsinki 2012 events.
5-June-2012: Katja Irvankoski's (UH) master thesis in UbiMap-project published, "Visualisation of Elevation Information on Maps: an Eye Movement Study".
18-April-2012: Go to Woods! project pages published at www.menoksimetsaan.fi. The project is one of the WDC Helsinki 2012 programme projects.
27-March-2012 to 1-April-2012: Terrain Navigator application on iPad exhibited at HaptiMap stand at Mobile World Congress (MWC) Barcelona 2012.
15-March-2012: Tiina Sarjakoski was invited to give a seminar about the current research of the group.
01-Jan-2012 to 31- Dec-2012: The FGI's project MenoksiMetsään! (Go to Woods!) is part of the World Design Capital Helsinki 2012 (WDC)-programme.
11-18-Dec-2011: Researchers from the UbiMap project have attended the journey to Tokyo organised by the Motive-programme, Academy of Finland. They visited among others the famous Tronshow for ubiquitous technology.