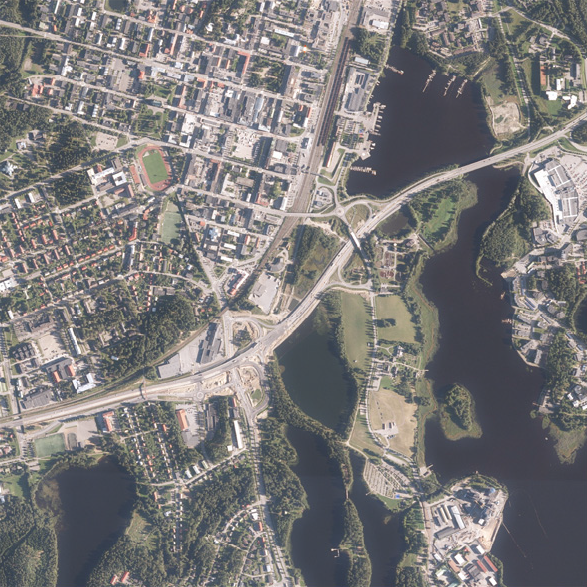 Purpose:
Orthophotos are utilized for mapping and also for planning and monitoring the environment. Colour or black-and-white orthophotos are suitable for planning or as background material for various map presentations. Colour-IR orthophotos are best suitable for forest inventory.
Geographic location
Entire Finland
Responsible party
National Land Survey of Finland
Spatial representation
Raster
Maintenance
The updating frequency of product versions Digital, colour 0.5 m and Digital, colour-IR 0.5 m is 3–10 years, depending on the area. The most up-to-date version is available via our service interfaces and browsing services.
Other product versions do not have a maintenance plan.
Coverage index maps (in finnish): https://www.maanmittauslaitos.fi/maastotiedonyllapito
Quality information

Lineage

NLS Orthophotos is the only set of aerial photographs that covers the whole of Finland.

Orthophotos are available as of 1995. Starting from 2009, orthophotos are also available in colour and colour-infrared format. The coordinate reference system used in the photo shoots until 2007 was KKJ, i.e. the national grid coordinate system (zones of the coordinate reference system). As of 2008, the coordinate reference system used in aerial photos has been ETRS89/TM35FIN.

Starting from 2014, orthophotos with a 0.25 m pixel size are available for some random areas.

The accuracy of an orthophoto depends on the sensor used in aerial photography, the photographing altitude and the elevation model used in producing the orthophoto. The elevation model has the biggest influence on the geometrical accuracy of the photo. The positional accuracy of an orthophoto is 0.5–2 metres.

The product can be printed out on scale ranging from 1:1 000.

Conformity

COMMISSION REGULATION (EU) No 1089/2010 of 23 November 2010 implementing Directive 2007/2/EC of the European Parliament and of the Council as regards interoperability of spatial data sets and services. 2010-12-08 The information product specification has not been published yet.

2010-12-08

The product does not meet the specifications.
Distribution and further information

Conditions applying to access and use

Limitations on access

The copyright and the other immaterial rights on the data set NLS Orthophotos are owned by the National Land Survey of Finland. The data material is not confidential. Public access to the material is not restricted by the INSPIRE Directive. Access to 0.25 m orthophotos may be restricted in some areas as determined by the Finnish Defence Forces.

Reference system

ETRS89 / TM35FIN(E,N) (EPSG:3067)

N2000 height (EPSG:3900)

Distribution format

Tiff (tfw)

Further information

The metadata of the orthophotos is provided by request.
Pricing

Maanmittauslaitoksen ortokuva

Product
Price € (excl. VAT)
Price € (incl. VAT)

77103010030

Ortokuva 1. kuva (maks 6 km*6 km)

89,27
110,70

77103010031

Ortokuva seuraavat kuvat

15,73
19,50

77103010032

Ortokuva koko Suomi

3150,00
3 906,00

77103010033

Ortokuva - kaikki yhden vuoden kuvat

1575,00
1 953,00